PAX Global Announces 2023 Interim Results
The Group achieved solid profit, with interim dividend up by 24%
PAX Global Technology Limited ("PAX" or the "Group", stock code: 00327.HK), one of the world's leading providers of electronic payment terminal ("E-payment terminal") solutions and related services, is pleased to announce its unaudited interim results for the six months ended 30 June 2023 (the "Period").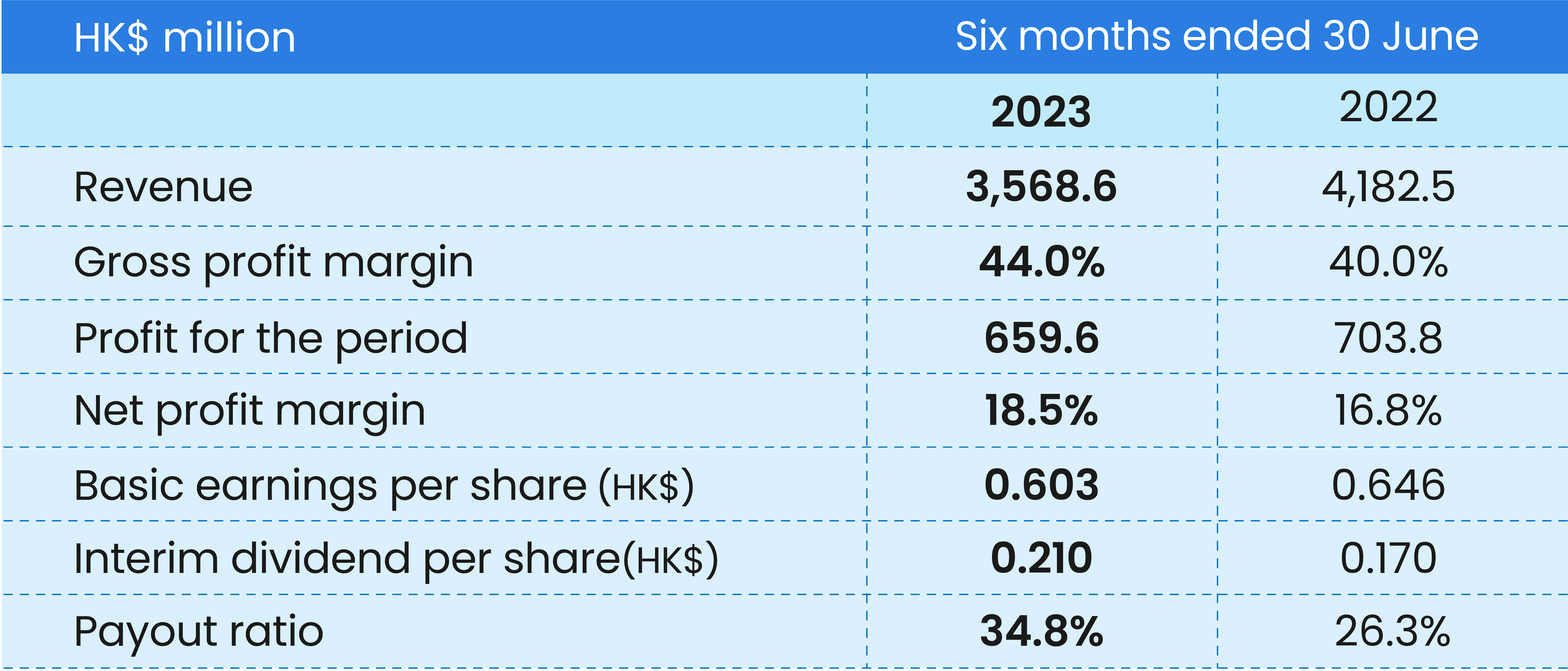 In the first half of 2023, slowing global economic growth and high interest rates have resulted in more conservative terminal deployment plans among customers. With an unwavering dedication to the payment terminal sector for over two decades, PAX has built extensive expertise, capital prowess and a widespread international customer base. Even amidst challenging macroeconomic fluctuations, the Group has demonstrated remarkable risk resilience and adaptability to volatile environment. During the first half of 2023, the Group's revenue recorded HK$3,568.6 million, both gross profit margin and net profit margin increased to 44.0% and 18.5% respectively.
PAX Android smart solutions empower merchant digital transformation
PAX Android smart solutions cater to a wide range of business segments, and provide advantages of high scalability and improved operational cost-effectiveness. The Group's cloud-based SaaS solutions, such as the MAXSTORE platform, integrate seamlessly with PAX products, enabling a suite of features including device management, software application deployment and real-time transaction data insights. These capabilities empower customers to make data-driven business decisions. More and more acquiring banks, Payment Service Providers ("PSPs") and partners have adopted PAX Android smart solutions to facilitate the digital transformation for merchants.

During the Period, PAX launched an array of products, ranging from Android smart payment solutions (namely A920MAX, A50S etc), the IP67 rated Android PDA A6650, to Android-based EPOS products – Elys series. All of these new products deliver upgraded functionality and adhere to the latest Payment Card Industry (PCI) requirements. Elys series was honoured with the prestigious Red Dot Award (Product Design) and iF Design Award, garnering international recognition of the seamless fusion of product functionality and visual aesthetics.

PAX was elected to the PCI SSC Advisory Board, exerting positive influence in the international payment sector
PAX was elected earlier this year to the Board of Advisors of the Payment Card Industry Security Standards Council (PCI SSC), becoming the first Asian-based payment terminal provider to take up the role, further enhance PAX recognition as a pioneer in the field of international payment acceptance solutions. As a strategic partner, PAX will leverage its extensive expertise to provide the Council with geographical and technical insights, fostering the long-term development of the payment industry with international industry leaders.
Mr. Jack LU, Chief Executive Officer of PAX, commented, "Despite short-term macroeconomic challenges, the proliferation of electronic payments continues to be a significant and ongoing global trend. The continued advancement of payment technology, along with growing consumer appetite for convenient and secure payment options, as well as the cashless initiatives promoted by governments worldwide, have continued to open up new opportunities for PAX solutions."

Latin America and the Commonwealth of Independent States (LACIS)
In LACIS, Brazil has faced with multiple economic challenges, placing pressure on business investment activities across the market. As a result, payment terminal deployment projects have also slowed down. This trend became evident in the second half of 2022, and continued throughout the first half of 2023.
In Chile, Mexico and Argentina, PAX has devoted more resources and further strengthened its distribution network and sales channels, thereby driving an ongoing increase in sales volume. The A-series Android smart payment products received widespread acclaim and recorded significant sales growth during the period.
Europe, the Middle East and Africa (EMEA)
Across Europe, the Middle East and Africa, many countries have encountered economic uncertainties. This has resulted in a temporary slowdown in market demand. However, the Group is confident that its strong brand recognition and products, as well as reputable network of channel partners will continue to positively influence growth in the region.
In Europe, Italy, the United Kingdom, Turkey, Spain, Germany and France all generated notable sales during the first half of 2023. Market demand for PAX Android smart solutions remains high, particularly the best-selling A920Pro model, and the MAXSTORE platform continues to be highly utilised by leading acquirers, independent sales organisations ("ISOs") and PSPs.
In the Middle East and Africa, the electronic payment industry continues to flourish. During the period, PAX recorded sales growth in Nigeria, South Africa and the United Arab Emirates.
The United States of America and Canada (USCA)
In the United States and Canada, thanks to increasing market demand for diverse payment options and value-added services, PAX smart solutions have maintained strong sales momentum. The Group's interim results in North America achieved a record-breaking high, with a year-on-year increase of 20.2%. 
PAX forges stronger partnerships with the vast ISOs network and PSPs, aiming to expanding the broader use-case scope of Android smart terminal solutions at merchant locations, ranging from restaurants, retail stores, football clubs to electric vehicle charging stations. Retail value-added services continue to be in demand, and the new Elys series was first launched in North America, where positive market feedback has been received.
Asia Pacific Region (APAC)
In the Asia Pacific region, the Group grew considerably across many countries, propelled by innovative products and increasing PAX brand recognition. Nevertheless, due to the longer-than-expected sales cycle in India, the temporary sales slowdown offset the growth of other markets in the region.
Indonesia, one of the most vibrant economies in Southeast Asia, has been benefitting from its government's dedication to drive the modernisation of the nation's electronic payment system, which opens up more opportunities for the payment terminal industry. Sales from Indonesia during the first half of 2023 surpassed the performance of the entire 2022 financial year, demonstrating a notable achievement.
In Japan, the Group's collaboration with local partners and PSPs yielded positive outcomes, propelling the widespread adoption of PAX Android smart products in the country, achieving significant sales growth during the period. Likewise, in Singapore and New Zealand, PAX continued to focus on building brand awareness and garnering clients' trust and recognition, resulting in a steady increase in shipment volumes during the first half of 2023.
Mr. Jack LU, Chief Executive Officer of PAX, commented, "Looking ahead, the global payment industry continues to embrace a prosperous future. PAX will continue to explore more potential business opportunities with acquiring banks, PSPs and distribution partners, offering future-oriented payment solutions for merchants and consumers across the globe."
For more information, please refer to the announcement and presentation.