MAXSTORE is now PCI DSS certified
PAX Technology, the world's leading manufacturer of point-of-sale terminal solutions is delighted to announce that MAXSTORE and the associated Value Added Services (VAS) passed PCI DSS v3.2.1 assessment on 21st January 2022. PCI DSS is among the most stringent financial data security standards in the world. The passing of the assessment confirms that the information security level of MAXSTORE and VAS meets the highest international standards.
This provides further reassurance to PAX customers and service enterprises in the payment card industry, that their systems and data are secure. The MAXSTORE platform is being constantly enhanced with security & feature improvements which provide customers with a powerful set of services.
Demand for PAX SmartPOS devices continues to be strong, as are the services provided by MAXSTORE. Today, almost 5 million terminals around the world are connected to MAXSTORE, a 120% year-on-year increase. 
If you want a copy of MAXSTORE and VAS - PCI DSS AOC Report, please contact our support team support@szzolon.com
What is PCI DSS?

PCI DSS is an international payment card industry data security standard founded by the members of the PCI Security Standards Committee (Visa, MasterCard, American Express, Discover Financial Services, JCB, etc.)
PCI DSS is applicable to entities that store, process or transmit cardholder data (CHD) or sensitive authentication data (SAD), including merchants, processing institutions, purchasers, issuers and service providers. PCI DSS is managed by the Payment Card Industry Security Standards Committee (PCI SSC).
What are the Advantages of Passing
PCI DSS Assessment?

An industry Security Standard
PCI DSS is an authoritative global standard to evaluate the security of financial data. PCI DSS certification means the security of the MAXSTORE platform and related services meet the highest of industry security standards.
Enhanced Payment Industry Security Knowledge & Experience
The PCI DSS standard supports and improves cardholder data security and has been adopted by all major international card associations. It provides a set of technical and operational baseline requirements - from 6 objectives and 12 requirements as listed in the table below - for protecting cardholder data and ensuring standards such as information security management, network security, data protection, vulnerability management, security monitoring, testing, etc. (Over 300 security inspection items are covered).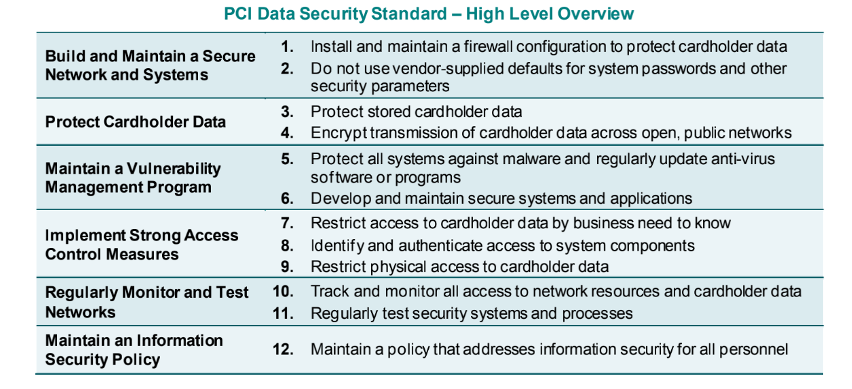 Delivering Superior Customer Confidence 
Around Security
The PCI DSS standard is based on the accumulated efforts of the international payment card industry over many years. In strict accordance with the requirements of PCI DSS, the MAXSTORE platform and VAS have implemented security protection for the cardholder data environment, which prevents data leakage and ensures no sensitive information is obtained by cyber criminals.